« Gerfried und Team haben umgedreht | Zur Artikelübersicht | ABC- Team auf 6200m »
Geschrieben von Administrator am 12.März 2011
Leider mussten wir letzten Mittwoch unseren Versuch, den Hidden Peak zu besteigen, erfolglos abbrechen. Trotz unserer hartnäckigen Bemühungen mussten wir auf 6600m einsehen, dass ein weiterer Aufstieg zu gefährlich ist. Die letzten 200m der 70° steilen Eiswand war unter den gegebenen Bedingungen nicht zu bezwingen. Eisschrauben konnten nur noch unter größtem Kraftaufwand gesetzt werden.
So mussten wir am Mittwoch Nachmittag die schwere Entscheidung zur Umkehr treffen. Fast 40 Tage hatten wir um diese Route gekämpft und unter fast unmenschlichen Bedingungen die Route forciert. Enttäuscht und schwer beladen erreichten wir in der Nacht das sichere Basislager. Aber wie ein Sprichwort sagt: "When going back makes sense you are going ahead!"
Am Donnerstag, unserem eigentlichen Gipfeltag, dann endlich der erste herrliche Sonnentag seit langem. Zuerst leckten wir unsere Wunden, am Nachmittag legte ich mich warm eingepackt in die Sonne, genoss die ersten Strahlen und kehrte dem Berg den Rücken. In mich gekehrt hörte ich Musik von den Stones, Metallica, Dire Streets und lokalen Interpreten wie meinem guten Freund Elmar Steiner und "Anwesend" von Michi the Fritz. Nach zwei Stunden wurde die Enttäuschung allmählich von beginnender neuer Motivation überdeckt. Ein alter Leitsatz von mir: "Nach dem Berg ist vor dem Berg."
Mein zurückkehrendes positives Gefühl wurde gestern durch eine relativ gute Wetterprognose von unserem unermüdlichen Dr. Karl Gabl bestätigt. Wir würden eine zweite Chance bekommen. Das Wetter wird zwar gut, aber sehr windig sein.
Das ABC-Team wird morgen, Sonntag, in aller Früh wieder aufbrechen. Alex, Louis und ich werden zum Gasherbrum La auf ca. 6300m steigen, am Montag wollen wir das Japaner-Couloir durchklettern und am Habeler-Messner-Biwak auf 7000m unser Zelt aufstellen. Wenn alles klappt werden wir am Dienstag am Gipfel des Hidden Peak stehen.
Ich werde den ganzen Aufstieg den Spot Messenger einschalten, so kann man uns über die nächsten Tage live verfolgen. Updates findet ihr täglich hier auf meiner Homepage. Bitte haltet uns die Daumen!
Mit herzlichen Grüßen aus dem Basislager des Hidden Peak
Gerfried Göschl
powered by
Kwizda Holding GmbH: www.kwizda.at
Oesterreichischer Alpenverein: www.alpenverein.at
8000plus – innovation and high performance
Unfortunately we had to give up our summit attempt last Wednesday. We real worked hard but finally at around 6600m we had to confess that it was too dangerous to climb on. The final 200 meters ice wall at 70 degrees of our new route was not climbable for us. Ice was like iron. Therefore, it was impossible to put an ice screw completely into the ice.
On Wednesday afternoon we had to make the hard decision to retreat. Nearly 40 days we fight on this wall under real inhuman conditions. Sad and with heavy loaded rucksack we reached basecamp in the night. A proverb says: "When going back makes sense you are going ahead!"
On Thursday, our originally planned summit day, we had the first real sunny day after long time (since 10 of February, imagine!!!). First we treat our wounds (psychologically and physically). In afternoon warm packed we laid in the sun, the mountain behind us. We listened music of the Stones, Metallica, Dire Streets and from Austrian local interprets like Elmar Steiner and "Anwesend" from Michi the Fritz. After two hours, slowly motivation came back. One of Gerfried´s personal sentence: "A mountain always hides another mountain." (It means, that it never ends)
Our new positive feeling has been underlined yesterday by our great weather forecaster Dr. Karl Gabl. We get an unexpected second chance!!! Weather will be try, but we will fight windy conditions.
Early morning the ABC-team will go up again tomorrow, Sunday. We all want to reach Gasherbrum La (col) at about 6300m, on Monday, we will try to climb the Japanese couloir and build up our tent at the Habeler-Messner bivouac at 7000m. If all works well, we want to reach the summit of Hidden Peak (G1) on Tuesday.
You can follow us the whole climb, we will bring up the Spot Messenger (GPS). We will send updates daily. Please cross your fingers for us.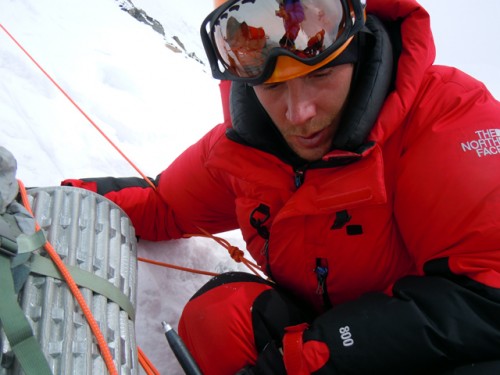 001: As usual, an early start from BC before sunset on Monday (Alex, Louis, Gerfried)
002: Is it a miracle or arrived Himalayan winter veteran Krzysztof Wielicki in camp 1 to help us? J
003: Gerfried after a hard cold night in camp 1
004: Louis leading the last pitch on Tuesday already after sunset at 6600m
005: Alex going up again on Wednesday, hard ice below his legs
006: Louis and Alex coming up at 6500m, below camp 1
007: Louis at the highest point on our new route attempt: It´s always a hard decision, but we have to turn around!
008: Gerfried and Alex near camp 1 going down
Kategorie: Hidden Peak (2011) |
5 Kommentare zu 2. Versuch startet morgen Sonntag/ 2 neue Videos
Zurück nach oben